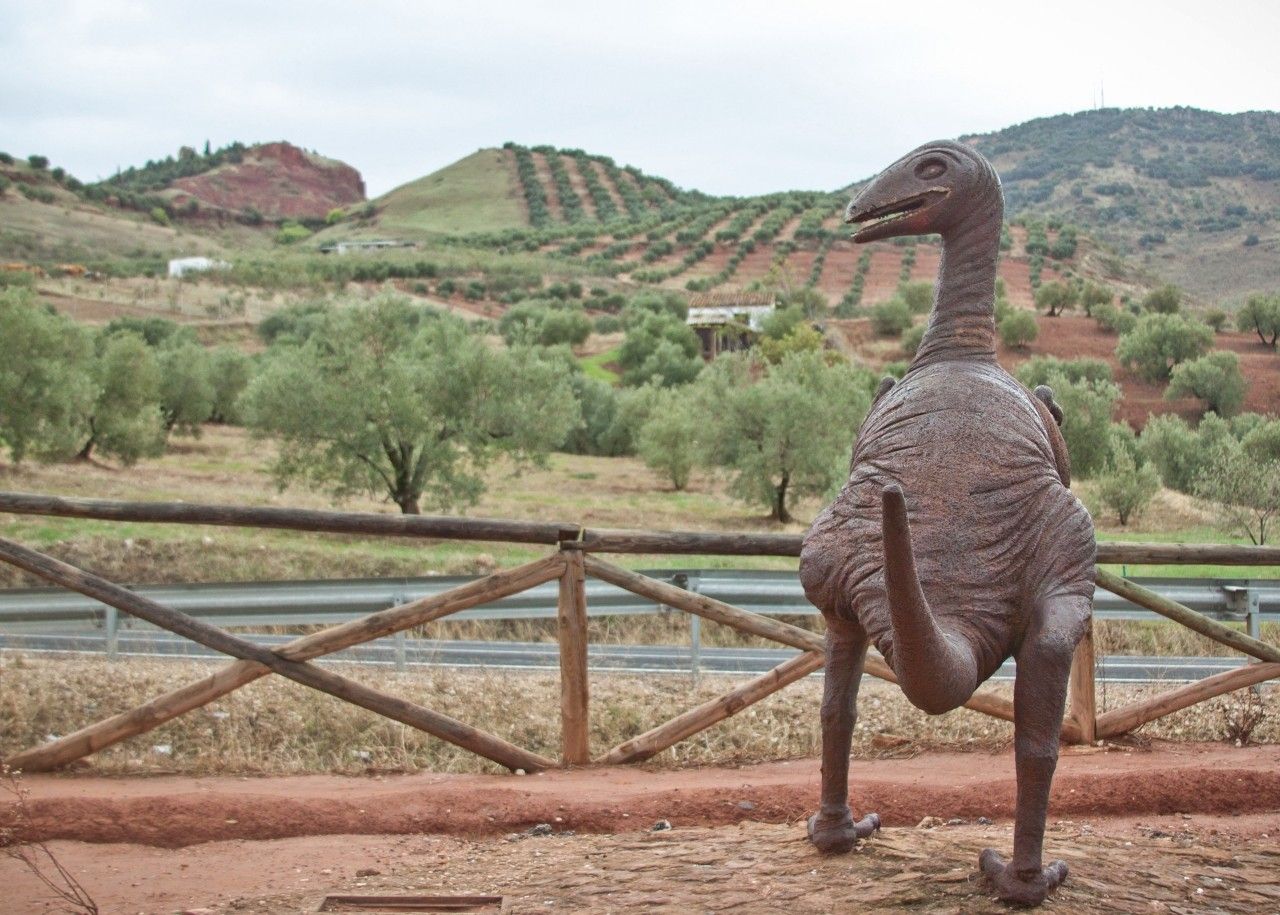 Municipality: Santisteban del Puerto
Regions: Condado de Jaén
Video
The fossils
Located on the outskirts of Santisteban del Puerto, on the right side of the A-312 road towards Navas de San Juan, in a place called Las Tres Eras.
In this place there are 24 bipedal dinosaur footprints that belonged to the Triassic period (Secondary Era) distributed over a 20 metre red sandstone clay area.
There are two marks of 33cm on the side and a 19 cm mark in the centre further away. Scientists attribute these footprints to a bipedal that existed 230 million years ago. The footprints' average depth varies from 1 to 9 centimeters.
The parallel position of the toes, especially the middle toe being shorter than the side toes, makes this site unique in the world.
These footprints are also known as icnites. Specific environmental conditions must be present in their formation and that is why they are not easily found. Among these environmental conditions the material these animals walked over must be different from the material that was settled out later. Fairly certainly, these footprints were printed over riverbed sediments or lake sediments and afterwards were covered by other material which allowed their conservation until the present day.
The footprint form reveals that these animals were bipedal dinosaurs and their movements were similar to the kangaroo's movements. Even information such as size, weight, age and social habits can be learned. The 24 icnites are in the same direction which suggests it was formed by a group of animals going to a specific place.
The pollen and vegetation fossils found reveal very different environmental conditions to current conditions. Vegetation was made up of conifers, palm trees and ferns and the climate was warmer and more humid than the current climate.
This is one of the two icnite sites discovered in Andalucía. This region was declared a natural monument by the Andalucian Government in 2001.
The recreation area
The place is well equipped with information panels and a playground. Footprints are protected in a little hut.